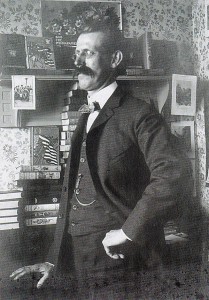 The Syndicate Many of the authors credited for writing these books are names owned by a literary syndicate that hired contract writers to complete book outlines under a pseudonym or "house name." There is one name that all agree made the juvenile fiction series the success that it became, and that was Edward Stratemeyer, 1862-1930. Responsible for conceiving, editing, owning and having published at least 1,300 books between 1900 and 1982, he and his heirs were responsible for more than just book publishing. His Stratemeyer Literary Syndicate was influential in much of what young boys and girls knew about wholesome life in America, told in stories of mystery and adventure on land, on sea, and in the skies.
There were also a number of non-Syndicate authors writing under their own names. This group included journalists, preachers and professors, even a college dean. A surprising number of these juvenile fiction authors were college graduates, some with advanced degrees.
Below is a clue as to how Edward Stratemeyer managed his ghost writers. This is a letter found by James Keeline in the New York Public Library collection of Stratemeyer papers. Written to J.W. Duffield, the "Allen Chapman" pseudonym of the Radio Boys, it demonstrates how Stratemeyer had a sharp eye for continuity and language not welcome in his juvenile series. Stratemeyer was clearly in charge!